Knowing how to tell how much propane is left in your tank can be a tricky business. Not being able to tell how much gas you have left accurately can lead to inconvenient and potentially dangerous situations, such as running out of fuel during an outdoor activity or while cooking. Fortunately, several easy ways exist to determine the propane amount in your tank. In this article, we will discuss some simple methods that you can use to effectively tell how much propane is left so you never find yourself unexpectedly without fuel.
How to Tell How Much Propane Is Left in Your Tank?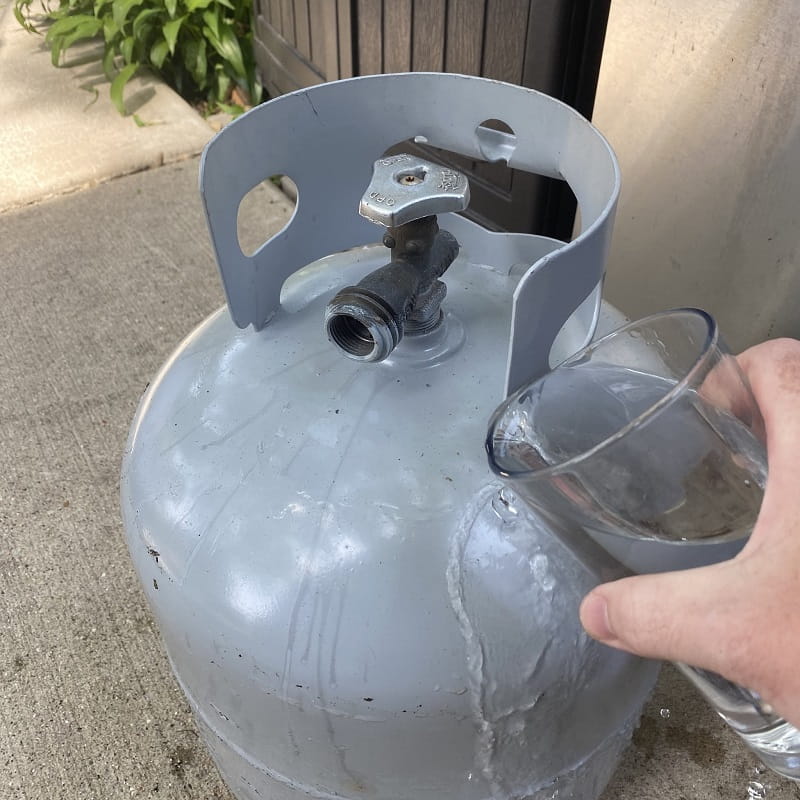 During the outdoor living season, it's essential to ensure you have enough propane for your barbecue grill. However, most 20-pound propane tanks don't come with a gauge to inform you of how much fuel is left within them. Luckily, there are three simple ways to determine your tank's fill level.
One way involves using warm water, where you pour it down the side of the tank and feel for a cool spot to identify the fill level. Another method is to weigh your tank; most weigh around 17 pounds when empty and hold about 20 pounds of gas. Weigh your tank and subtract the tare weight to gauge how much propane is left. Lastly, you could install an external gauge, such as an inline pressure gauge or digital scale, to track your tank's fill percentage.
There are also other ways to help you check the amount of propane left in the tank; below are specific ways.
Hot Water Test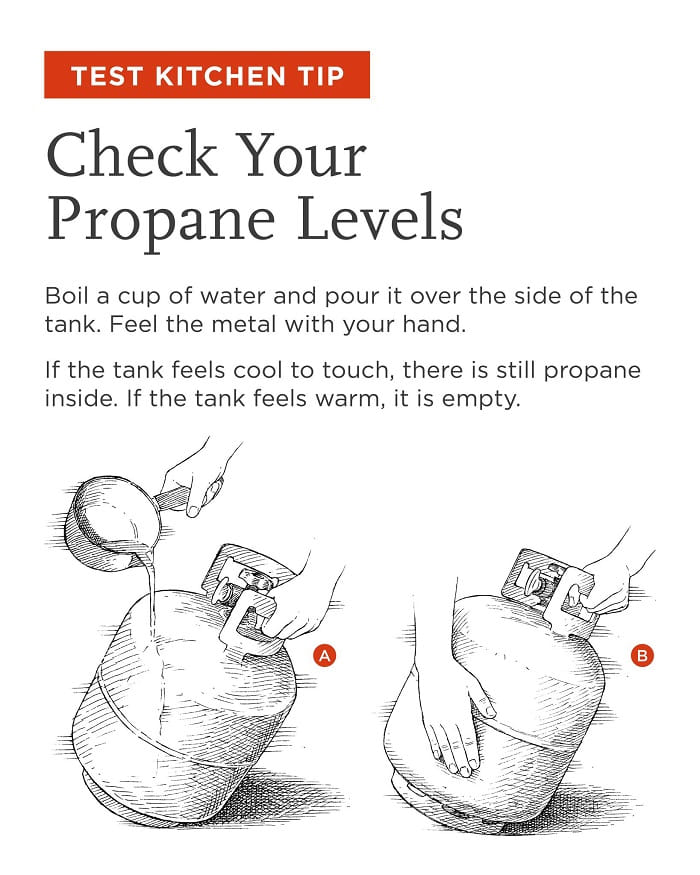 Pour hot water down the side of the tank and feel for a temperature change. The temperature change indicates the propane level inside the tank, as the level of propane inside the tank changes temperature at the point where the propane level is located.
By Cook Time
Most propane tanks have a BTU rating, the amount of heat the tank can produce. To calculate how much propane is left, you'll need to know your tank's BTU rating and your grill's BTU rating.
For example, let's say your tank has a BTU rating of 50,000, and your grill has a BTU rating of 10,000. This means your tank should last approximately five hours of grilling time. If you've been grilling for three hours and your flame is starting to weaken, it's a good sign that you're running low on propane.
Buy A Magnetic Gauge
A magnetic gauge device allows you to quickly and easily check your propane level without looking at a dial manually. To use this tool, attach it to the side of your propane tank and let it sit for a few minutes. The gauge will then display the level of propane remaining in your tank, clearly indicating when it may be time to order a refill.
This method is particularly useful for those who are uncomfortable manually checking their propane gauges or who may not have access to a reliable gauge. By investing in a magnetic gauge, you can ensure that you always have an accurate idea of how much propane you have left, making it easier to plan for future refills and avoid running out of gas unexpectedly.
Float Gauge
Float gauges are designed to read the level of propane in a tank and display it as a percentage of the tank's capacity. Most propane tanks have float gauges that use a floating arm to read the level of liquid propane. As the level drops, so does the float gauge. This information can be relayed to propane suppliers for accurate delivery.
Pressurized Gauge
Using a pressurized gauge, you can easily tell how much propane is left in your tank, ensuring your grilling experience is hassle-free and enjoyable.
The Gauge on Your Tank: Many propane tanks come with a gauge that displays the pressure of the propane inside. To check the gauge, look at the top of the tank, where there is a circular dial with numbers. The gauge will tell you how much propane is left in your tank. If the dial reads green, you are good to go, but you should get a refill if it's red.
Inline Pressure Gauge: Another way to tell how much propane you have left is by using an inline pressure gauge that attaches between the gas line from your grill and the shut-off valve on the propane tank. The gauge measures the pressure in the tank and estimates how much propane is left. These gauges are easy to install and available at most hardware stores.
Analog Propane Scale: Analog propane scales look like luggage scales and are specially designed to consider your tank's tare weight when weighing. To use the scale, remove the tank from your grill and place it on the scale. The scale will then give you an accurate reading of how much propane is left in the tank. These scales are also available at your local hardware store or online.
Digital Propane Tank Scale: Digital propane tank scales provide a digital readout of remaining cook time and gas fill percentage. Some even come with smartphone apps that allow you to monitor your propane tank right from your phone. These scales are easy to use and can accurately read how much propane is left in your tank.
Grille Gauge
This small device attaches to the side of your propane tank and shows you the level of propane left in the tank. Grille gauges are easy to install and use. Attach the gauge to your tank; it will give you an accurate reading of how much propane is left.
Fuel Level Indicator
This small device attaches to the side of your propane tank and uses ultrasound technology to measure the level of propane left in the tank. Fuel level indicators are more accurate than grille gauges and can give you a more precise reading of how much propane is left.
To use a fuel level indicator, attach it to your propane tank and turn it on. The device will use ultrasound technology to measure the level of propane left in the tank. It will then display the propane level on a digital screen, accurately reading how much propane is left.
Sound Test
Pour hot water down the side of the tank and then tap on the side of the tank. A hollow sound means there is likely a lot of propane left, while a solid sound indicates the tank is close to empty.
Bleed The Lines
Open the gas valve on the tank and allow the propane to flow. Check for the smell of propane. If there is little or no smell, there may be little or no propane in the tank.
Weight Comparison
Lift the tank and compare the weight to a full tank. Propane weighs about 4.2 pounds per gallon, so deduct the tank's weight (typically marked on the collar or handle) from the total weight to determine how much propane is left.
Fill amount
Keep track of how much propane you use for various activities, such as grilling or heating, to estimate how much propane is left in the tank.
Look At The Flame
Flames on a propane appliance will appear smaller or weaker when the propane level is low, indicating it may be time for a refill.
Refill Preventive
Please don't wait until the tank is empty to refill it. Consider getting it refilled when it's between one-third and one-fourth full to ensure that you always have propane on hand.
You may like:
What Are The Signs That Your Propane Tank Is Almost Empty?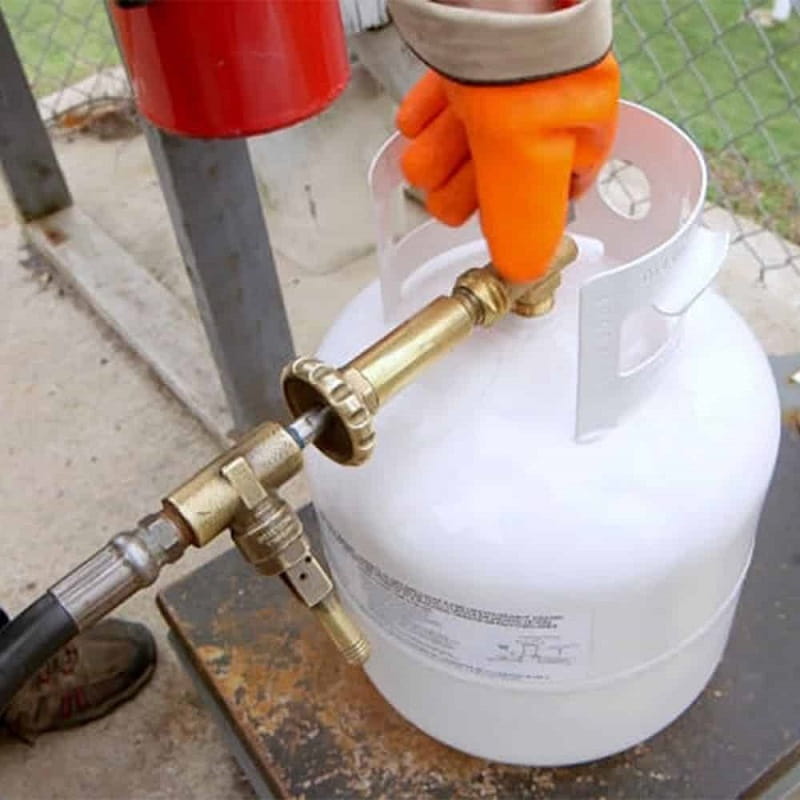 Running out of propane can cause inconvenience and even leave you without heat or power during winter. So how can you tell when your propane tank is about to run out? Here are some signs to look out for:
The tank's weight is light: Propane tanks have a tare weight specified by the manufacturer, which is the empty weight. You can track the amount of propane spent by weighing the tank. If the tank feels noticeably lighter than when you first got it, it's nearly empty.
The flame is small or not lighting up: If you have a propane stove, check if the flames are weaker than usual. It's a sign that the tank is running low on propane and needs a refill. If the flame completely goes out when you light it, it could also indicate that your tank is empty.
The gauge reads low: Most propane tanks come with a gauge showing the propane level in the tank. If your gauge reads below 20%, it's time to schedule a refill. Keep in mind that gauges are not always accurate, so it's helpful to know the other signs listed here.
You hear a hissing sound: If you hear a hissing sound from your propane tank, gas might be escaping from the regulator. A smell of propane often accompanies this sound. If you hear this noise, it's important to turn off the gas supply and call a professional for assistance.
Cold weather reduces pressure: In cold weather, propane tanks may not maintain the same pressure level as in warmer temperatures. If you're outside grilling in the winter, and the food is taking longer than usual, it might be a sign that the tank is running low on propane because of the cold weather.
How Accurate Are Propane Tank Gauges?
Propane tank gauges are essential for ensuring propane tanks do not run out of fuel unexpectedly. While accurate readings from these gauges are crucial, it is important to note that they may not always be 100% reliable.
There are two types of gauges: the tank float gauge and the fixed liquid level gauge. Tank float gauges, which consumers use, indicate the volume of propane in the tank as a percentage of its total capacity. While dependable, they are not precise and cannot be used for filling. In contrast, fixed liquid level gauges, which are used during refill, provide an accurate reading of the level of propane in the tank. Additionally, propane tank gauges are subject to wear and tear and may not always be effective.
Hence, for accurate readings, it is necessary to replace faulty gauges. Knowing how much propane is left in the tank is vital to preventing run-outs and scheduling timely deliveries. By multiplying the tank's capacity by the percentage shown on the gauge, consumers can calculate the gallons of propane remaining in their tanks. Therefore, while propane tank gauges are helpful, it is advisable to keep in mind their limitations and constantly monitor propane usage to avoid running out of fuel.
What Is The Difference Between The Pressure Gauge And The Level Gauge?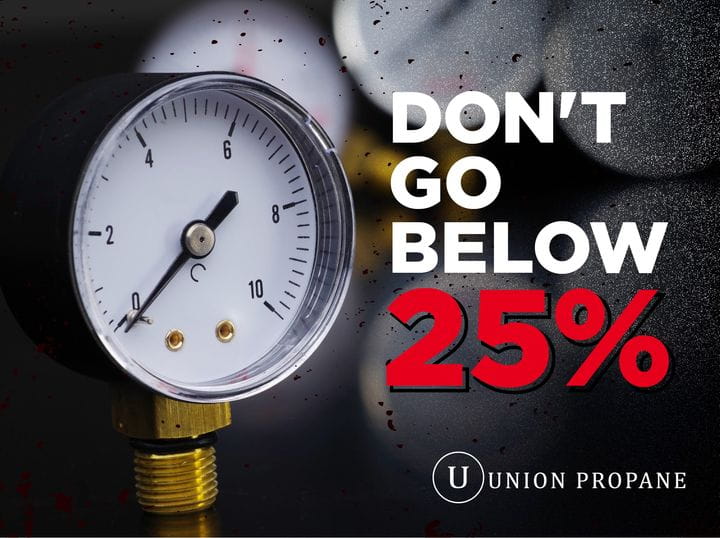 The measurement of pressure and level is vital in many industries. Pressure and level gauges are commonly used to measure fluid or gas levels in tanks, pipes, and vessels. Understanding the difference between these two gauges is essential to choose the right one for your application.
The pressure gauge measures the pressure of a fluid in terms of gauge pressure, which is the total pressure minus atmospheric pressure. On the other hand, the level gauge measures the level of fluid in a tank or vessel. It can be in the form of a visual indicator or an electronic sensor. Both gauges are widely used in various industries such as chemical, pharmaceutical, oil and gas, water treatment, and many others. Choosing the right gauge type for your application is essential to ensure accurate measurements and avoid costly errors.
What Numbers Are Typically Stamped On The Handle Of A Propane Tank?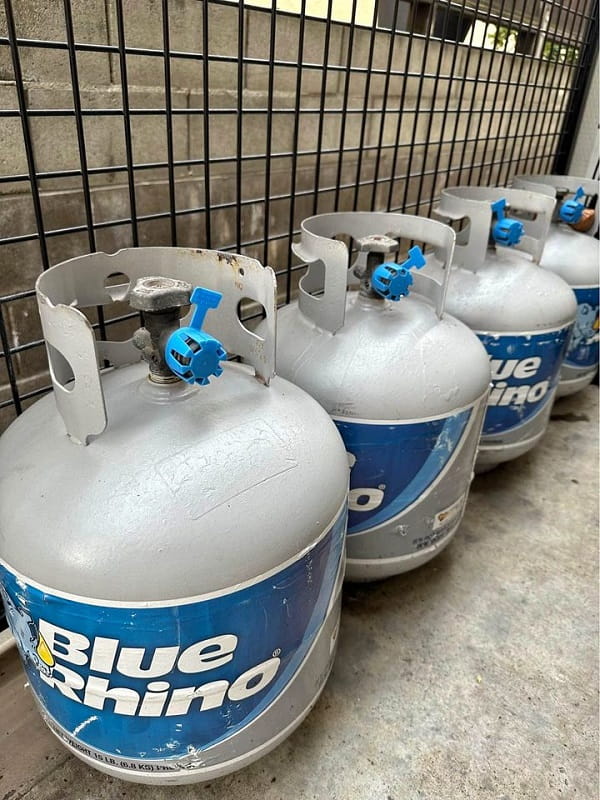 When it comes to propane tanks, many people wonder what numbers are typically stamped on the handle of a propane tank. Well, most propane grill tanks come with two numbers stamped on the handle – the water capacity (WC) and Tare Weight (TW). The water capacity refers to the amount of water in pounds that the tank can hold if it were filled to 80% capacity. The Tare weight is the weight of the empty tank.
FAQs
How Much Do Most Propane Tanks For Grilling Weigh When They Are Empty?
The most common propane tank for grilling is the 20-pounder, found at hardware stores and big-box retailers. The empty weight of a propane cylinder can be as little as 17 pounds, while a full one can weigh up to 37 pounds. Depending on the manufacturer, these tanks are marked in either pounds, gallons, or cubic feet.
A 20 lb propane tank typically contains about 4.7 gallons of liquid propane, and one gallon weighs around 4.2 pounds. Propane cylinders can also vary in size depending on the consumer's needs. It is important to note that propane tanks are designed with 20% extra space to expand propane as the temperature rises.
All tanks have a stamped tare weight on the collar, which denotes their empty weight. Knowing how much an empty propane tank weighs is necessary to determine how much propane has been used and estimate how much propane needs refilled.
Is Using Two Out Of Four Burners On A Grill More Efficient Than Using All Four?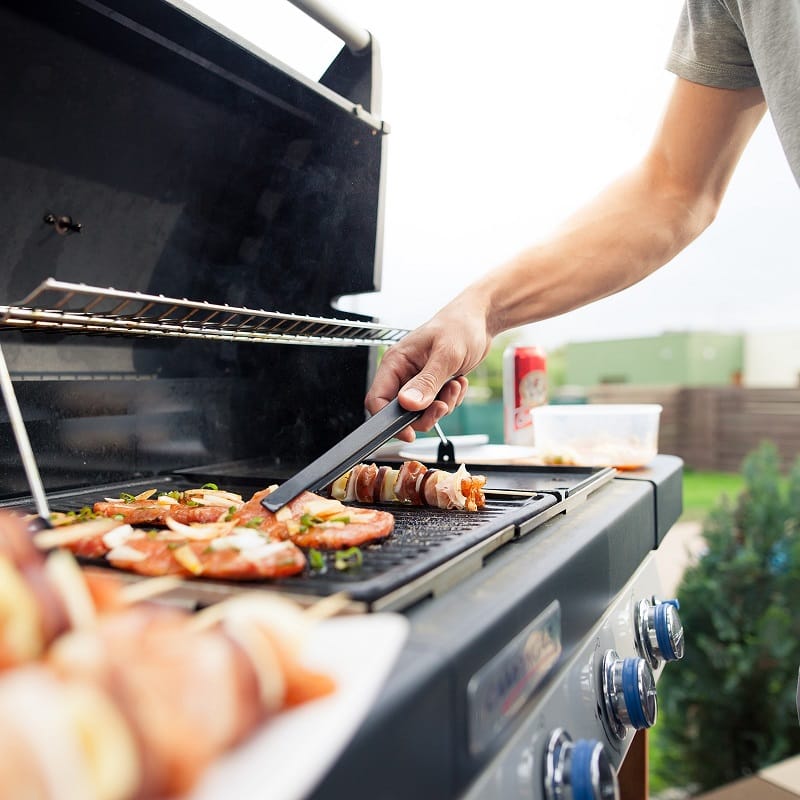 Using two out of four burners on a grill can be more efficient than using all four, based on factual data. Preheating the grill is crucial to ensuring food cooks evenly and doesn't stick to the grates. By starting with all four burners on high for 10 minutes, the grill is able to reach the desired temperature. Once preheated, keeping one or two burners on high and the others on low or off creates a safe space for cuts of meat or vegetables that cook at different rates.
Additionally, using only two burners can help save on fuel costs and ensure that only the necessary amount of heat is used. It is important to note that the number of burners used ultimately depends on the amount and type of grilled food. Grillers can efficiently cook their food using two burners while reducing waste and saving energy.
How Do Inline Pressure Gauges Work?
Inline pressure gauges are important tools that measure a system's pressure of liquids or gases. They are specially designed to monitor the flow of fluids in multiple applications such as industrial settings, pharmaceuticals, and various manufacturing processes.
The principle behind inline pressure gauges is quite simple. A pressure-sensitive element such as a diaphragm or bourdon tube is installed within the pipe or fitting. As the fluid passes through, the pressure-sensitive element is deformed according to the fluid pressure. The deformation is then translated into a readable format on the display or digital readout.
Different types of inline pressure gauges are available, each with unique features. One prominent type is the bourdon tube pressure gauge, widely used due to its excellent accuracy, sensitivity, and linearity. Other inline pressure gauges include digital pressure gauges, which are more accurate and come with LCD displays.
Regardless of the type, inline pressure gauges are vital for maintaining safe and consistent fluid flow and preventing leaks, system failure, or explosions. Therefore, choosing a pressure gauge rated for your system's operating range is important, and regularly calibrating and maintaining it for accurate and reliable readings is important.
How Do Analog Propane Scales Work?
Analog propane scales are popular for propane grill owners to determine how much fuel is left in their tanks. These scales work by taking into account the tank's weight when empty, known as the Tare Weight (TW), and subtracting that from the total weight of the tank when it's full.
Most propane grill tanks weigh about 17 pounds when empty and hold about 20 pounds of gas. So if you weigh your tank and it comes in at 27 pounds with a TW of 17 pounds, there are about 10 pounds of propane left, which is a little more than half a tank. Analog propane scales are designed to automatically take the TW of the tank into account, making it easy for users to determine how much propane they have left without complex calculations.
How Do Digital Propane Tank Scales Work?
Digital propane tank scales provide an accurate way to measure the amount of propane left in a tank. The scale is placed under the propane tank and connected wirelessly to an app or digital display. The user can select the tank's weight, and the display will show the percentage of propane left based on the tank's weight and the weight chosen.
The scale can last up to 3 months on a standard battery charge and fits neatly under the propane tank without any connections, reducing the risk of leakage. The GasWatch App displays the remaining cook time in hours and minutes, while the low-level alarm alerts users when propane levels fall to 10%. This user-friendly solution does not require any tools to set up. With the power of technology and connectivity, digital propane tank scales effectively monitor propane levels and help users save money by avoiding unnecessary refill trips.
Conclusion
In conclusion, it's important to know how to tell how much propane is left in your tank. Checking the gauge, using the hot water method, and monitoring your propane-powered appliances are all effective ways to gauge how much propane you have left. By taking these steps, you can ensure you never run out of propane at an inopportune moment.
References: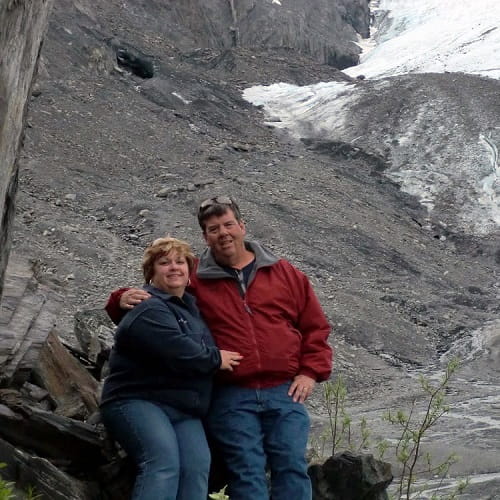 Hey readers! Chip Holland here, and I'm a Manager of this website. My passion for writing about it only matches my passion for BBQ. Follow my blog for mouth-watering recipes, tips, and tricks for the perfect smoke, grill, and BBQ. I'm sure you won't be disappointed!